Residential Roofing Contractors
Trust is key when hiring your roofing contractor
At West Coast Roofing, we strive to be a roofing contractor who has built the trust of our entire community. Our reputation is our most important asset, and we are proud to be one of the highest rated contractors around. When it comes time for your next roof, be sure to call to see all that we have to offer.
You and your home deserve the protection afforded by utilizing quality materials and professional installers who can tackle any issue they may encounter. With decades of experience, our highly trained staff will treat your home as if it were their own, and we understand that the mess and intrusion of re-roofing can be lessened using common sense tactics.
Shingles are the most common residential roofing system. Over the years shingle roof types, colors, and options have grown tremendously. We will be happy to make suggestions about colors, styles, and various other options that may be available. We offer many options that will add to the beauty of your home, and low-maintenance and stain resistant shingles are available. To see a complete line of shingle roof offerings, give West Coast Roofing a call today.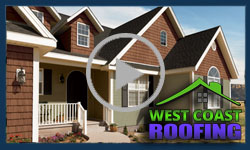 The Quality Products used by West Coast Roofing & Painting
Malarkey Shingles

Malarkey products offer a full line of advanced commercial roofing systems for flat / low slope roofing applications

CertainTeed

Sustainable solutions and products that minimize their impact on the environment and your home

GAF

The Top of the Line asphalt shingles.  They offer a variety of styles and colors to complement your home and taste.